Getting my card signed at the second control of the day

Bob and Amy on the Road
We had a really good time riding this brevet on many familiar roads. I kept having strange feelings of dejavu - of course I've been here before which I had. One out and back that I hadn't ridden before was the route to Steamboat Island which gave us a chance to see many of the riders and figure out how many miles up on us they already had - sometimes its tough to be at the back of the pack but then we get to enjoy more of the brevet then they do and sometimes I think its just our control times that put us there. After Steamboat Island we enjoyed Omelette sandwiches at Subway which really hit the spot and kept us rolling for quite awhile. We caught up with Duane Wright at the next control and would ride with him and Ken Krichman who we found fixing a flat. We wished we would have had a camera along to take pictures of giving Ken shot blocks - he looked like a homeless man he had already had several flats and was a bit grimey and looking alittle wild.
Many of these rides roll through small towns with limited services (ie no nice grocery store) this ride the small grocery store that gets my "Nasty" award was in the small town of Rainier at mile 174 so not far from the finish we ate some yougart and filled our water bottles. The last few miles went quickly on some quiet side roads with a few steep descents that could have been a rude awakening if I hadn't been here before.
We finished the ride at around Midnight so were out for 17 hours - to complete 190 miles with about 7500 feet of climbing. The last 300 km ride we did took us the full 20 hours so you could say we are getting faster but I think this one was just a friendlier route without the Tahuya Hills.
Peg greeted us with some awesome local pizza - but then the Bob Brudvik came in to hang out and gave us the bad news about one of fellow Rando's - Steve Hameister was dead. All of us quickly went into a state of shock - Steve had helped Bob and I out on the 400 km this spring and had prerode the event with us. Just another reminder how short life can be sometimes. My thoughts are with Steve's family at this difficult time - his wry sense of humour will be missed he was a good road buddy. Here is a picture of us picnicking on the 400 km this spring. That's Steve in the orange looking a bit annoyed.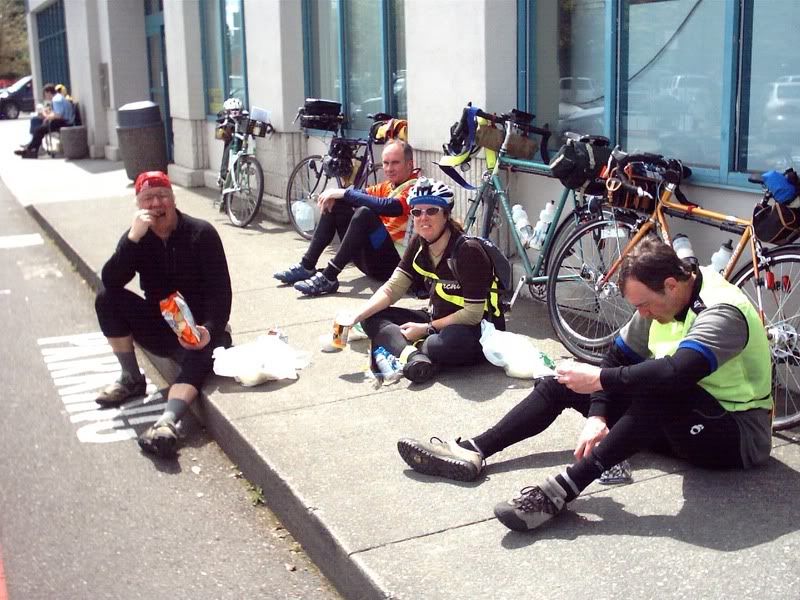 Photos from the 300 km courtesy of Greg Bleakney